NOTE: this process is for instructors using our Record+ service line. This service line does not have a live proctored launch. If you are using Live+ or Review+ (which DO include a live proctored launch), please click here.
In order to use Record+, you will need the Google Chrome Extension or Firefox Extension.
Sign In
Log in to your Blackboard Account

Navigate to the course where you would like to setup a new or pre-existing exam for use with Record+
Extension Login
Click on the LTI tool on the left-hand side of the page in the course tools selection
If you do not have this option, it will need to be enabled by you or a Blackboard administrator at your institution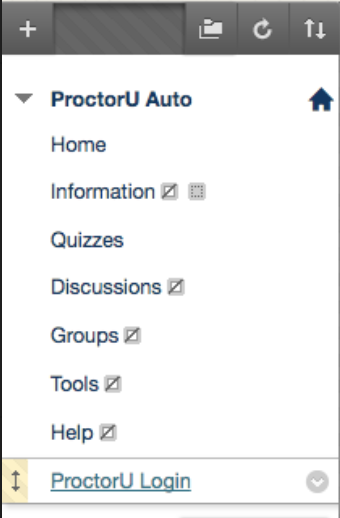 By clicking on the ProctorU LTI tool you will be automatically logged into the ProctorU Google Chrome extension
Record+ Exam Setup
Navigate to the section of Blackboard where you create exams and quizzes
If you have not already created an exam, please do so

If you have an exam created, you can edit the test options and also enable

Record+
To enable
Record+
, click on Edit the Test Options
Scroll to the section labeled ProctorU
Click on the button to switch the section to "on"

Record+ will automatically assign a password to you exam that you will not be able to see
When a test-taker takes their exam, the Record+ Google Chrome extension will automatically enter the password for them
Exam Settings and Resource Check
The exam settings are set to be optimized from a default standpoint
You do not need to change these settings unless desired
To allow certain resources during the exam, click the checkbox next to the resources you would like your test-takers to use on the exam
Prior to starting an exam, students will be notified as to what is allowed
Save and Submit Exam
Prior to exiting after creating an exam, or updating a previously-created exam, make sure you submit your changes.
Click Submit in the bottom right-hand corner of the page