To review videos of an individual test-taker's exam, you'll need to access the exam session detail page inside your ProctorU account. For detailed instructions on how to access that page, please review this help article.
Video Player
Make sure you have a compatible video player installed on your computer.
If you are using a Mac, we recommend using this media player. This will play all file types from below without needing any additional software.
If you are using a Windows machine, we recommend using Windows Media Player or VLC. Files will not play with Windows Movies. VLC will not work for the LMI AVI screen recordings. You will also need to install this codec from LogMeIn to play LMI AVI screen recordings.
Accessing Exam Media Files:
Once you're on the test-taker's session detail page, click the View Media button in the upper right of the screen.
Videos: A webcam recording shows the test-taker's face during the exam. The recording can be downloading using the "Request Recordings" or "Request Videos" buttons. The videos will be downloaded as a WEBM file type. These files can be played through the Chrome browser after they have been downloaded. NOTE: After the video has been requested, you will receive an email notifying you that the request is complete. You will be able to download the video from the email or through the individual session page in the ProctorU Platform. These videos will only be available for 15 minutes.
Screen Recordings: A screen recording can be downloaded by clicking Download next to Recording 1, Recording 2, etc. The file will be downloaded as a Custom LMI AVI file type. NOTE: LMI stands for LogMeIn, the service we use to communicate with and monitor test-taker screens.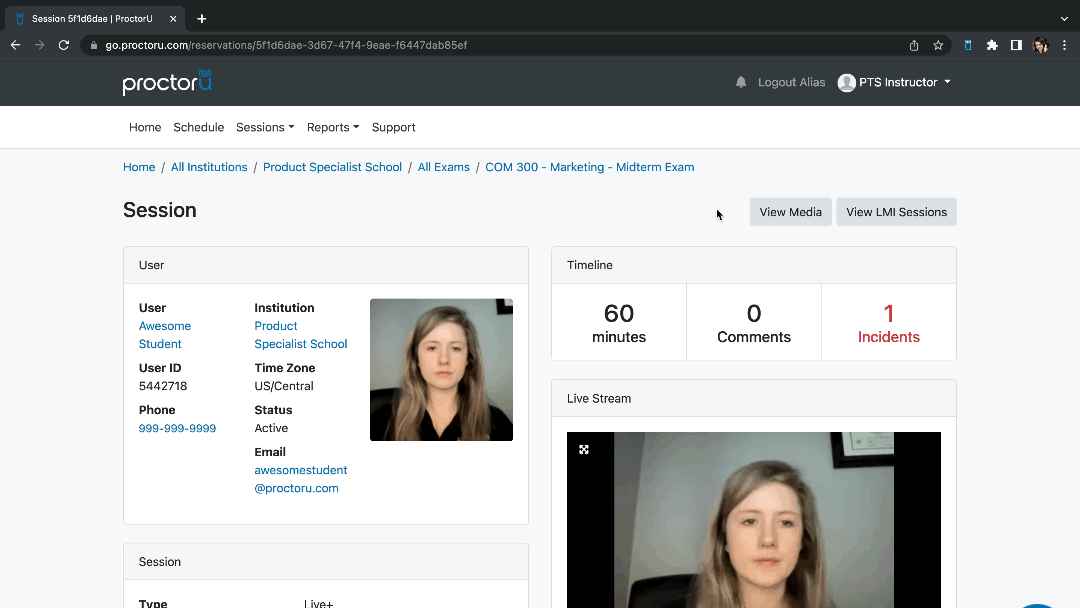 Have more questions? Submit a request